Diane Sawyer
Diane Sawyer is anchor of ABC World News. Her elegant and energetic handwriting indicates that her life's goals fly so high that most people think her dreams are merely castles in the air. Yet Diane Sawyer's handwriting shows she is clearly equipped and determined to reach up to grasp them, and she does.
Here is a sample of Ms. Sawyer's script. She wrote it especially for an analysis by Sheila Kurtz, master graphologist and president of Graphology Consulting Group, the world's leading handwriting analysis company. Ms. Sawyer's analysis is from precisely the same program that Graphology Consulting Group uses for on-line Clients.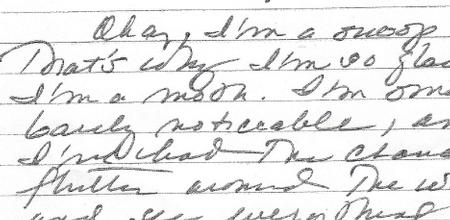 The following is Ms. Sawyer's Computer-assisted Handwriting Analysis Program™ Report (CHAP™).
Handwriting Analysis Report
Copyright 2012 Graphology Consulting Group. All Rights Reserved.
Individually Prepared for DIANE SAWYER, who discussed its otherwise private and confidential contents with Ms. Kurtz on the air during Good Morning America.
COMMUNICATION
Poise and self respect are evident in your handwriting. You comport yourself with balance, freedom from affectation and with good composure.
There is evidence in your handwriting of excessive sensitivity to criticism, and your reactions may not always be constructive. Fear of criticism can operate as a goad (or a drive) to the perfection of skills and/or techniques; or it may be a self-imposed limit to productivity. The capacity to recognize excessive sensitivity to criticism may prove an asset to you, if you can learn to evaluate, with less pain, both positive and negative reviews of your endeavors by others.
Your enthusiasm is shown in the sweep of the T-bars across the letter stem. This is an indication of your strength of feeling. This trait indicates your ability to inspire others. (Keep sweeping your T-bars. It is a very positive trait.)
(Continued. Click here for the rest of Ms. Sawyer's report)

~~~
TEN MOST INTERESTING
HANDWRITING PROFILES
By Sheila Kurtz, Master Graphologist
Louis Vuitton Replica Handbags Replica Handbags Replica Oakley
Cheap Handbags Louis Vuitton Replica Handbags replica Hermes handbags Mulberry replica handbags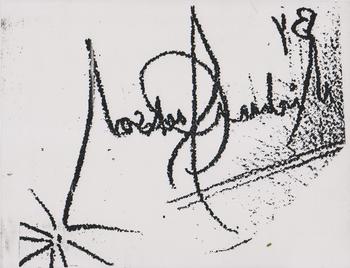 (A mirror image signature)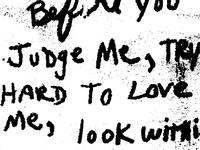 MICHAEL JACKSON drew the signature of a genius musician, but his textual script was that of a VERY troubled and fearful eight-year-old child. The sample above was written for GCG in Crayon and sent to us by Mr. Jackson.
DIANE SAWYER sets the highest flying goals for herself and she has the creative and energetic ability to reach most of them. (See story above.)
DAVID LETTERMAN blames and castigates himself for his inherent untrustworthiness.
JAQUELINE KENNEDY ONASSIS was private and self-absorbed, yet she was also idiosyncratic and vied for attention.
THOMAS A EDISON is graphologically famous for his sweeping t bar that indicates boundless enthusiasm and drive.
MATT LAUER's sweeping t bars far above the t stem, in an umbrella shape, indicates a visionary thinker who maintains self-control. His puffy d loops indicate a sensitivity to criticism. The elegant banner at the beginning of the M in his signature flags a sense of humor and the needle points in the M point to a very fast thinker.
FR. SOLANUS CASEY is on his way to sainthood with a typical mischievous youth. His handwriting from his childhood until his death is now held by the Vatican and was analyzed by Sheila Kurtz as a part of the Vatican's fact gathering before beatification. We will add a sample of his handwrtiting when it is available.
RICHARD NIXON is an epic sad case of a prideful and powerful man whose self confidence flatlines along with his signature.
PRESIDENT BARACK OBAMA is a much faster thinker than the average politico with a handwriting complex and strong enough to have become a computer font.
LINDSEY LOHAN scripts block printing that lets almost nobody in, with signals of despair and depression.
Plus 1:
Isaac Asimov. The peculiar loops inside the a's and the c in Isaac are purely Asimovian and are rarely seen in graphology. They indicate a writer whose fantasy life is unearthly and who mixes the true with the untrue in devious and deceitful ways that work remarkably well in storytelling. The m in Asimov includes a needle point which indicates speedy thinking and the size of his letters signals a very large and healthy ego. If Asimov had not been a scientist and science fiction writer, he might have made a world-class crook.
~
????????
THE MOST FREQUENTLY ASKED
HANDWRITING QUESTION
WHY DOES MY HANDWRITING SEEM TO CHANGE FROM TIME TO TIME?
Because it does. Handwriting changes when your moods and conditions change. It speeds up, slows down, gets more and less pressured, slants one way and perhaps another, and changes as your mind changes. Because handwriting is brain-writing, in an active mind your script is never static but is sometimes grossly and often subtly expressive of how and at what levels you are currently operating. Certain fundamental aspects of handwriting formations remain essentially the same in most sane handwriting, such as emotional slant, patterns of thinking including methodical, investigative, intuitional and multifunctional.
~
The Creepiest Handwriting
of Any Politician, So Far . . .

THIS SAMPLE of former U.S. Senator John Edwards' writing was from a document in the New Hampshire Secretary of State's office in Concord, whereupon Senator Edwards and several other candidates for the 2003 New Hampshire Primary wrote personal notes on a "Notice to Voters" form as a favor for the Secretary of State, whose office kindly copied and sent us the form.
Senator Edwards wrote:
"Because America works best when it works for all of us – thanks to New Hampshire – John Edwards"
~~~~~~
FOUR YEARS AGO, long before the sordid details came out, I was asked to analyze the handwriting of a bright and rising star of the Democratic Party, a good looking Senator from North Carolina named John Edwards.
He had earned the reputation as a brilliant defense lawyer; he was on short lists for vice-president; and he was preparing himself to run for President, with his cancer-stricken wife, Elizabeth, smiling loyally at his side. He flashed Kennedyesque good teeth, a dimple, a big, insincere smile, fair hair and he enjoyed media affection.
As an independent New Yorker, I was prepared at least to like him. Then I took a close look at his handwriting.
I understood clearly for the first time how the hype and spin of a political campaign can cover up and attempt to erase the most fundamental flaws and faults in a candidate's personality. I and my colleagues knew immediately that we were examining a handwriting whose writer we wouldn't recommend for a midnight-to-eight security job at an empty warehouse. The handwriting clearly belonged to an unstable, conniving, furtive, shallow, creep.
I was shocked. I twice redid the examination and found the same results.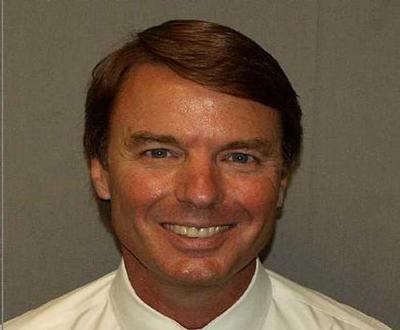 A disturbing police mugshot of former Sen. Edwards when he was arrested for six felonies.
~
'Mysteriously Weird' Signature
Of White House Chief of Staff
HANDWRITING ANALYSIS of JACOB "Jack" LEW
The signature of Jacob "Jack" Lew is among the most mysteriously weird (with goofy overtones) that we have seen in a quarter century of graphology.
It looks like an unraveled Slinky, and like most signatures is not necessarily indicative of the person who wrote it, but more likely the crafted image they want others to perceive.
But who wants others to see him/her as a Slinky, unless that's what he/she actually may be, psychologically speaking? It may be enlightening to know how that spiral signature came to be crafted by Mr. Lew. Is there a symbolism in it that most people cannot fathom? Is it a private joke?
The overall loopiness generally signals hyper-secrecy. He will carry secrets to his grave. He is also secretive about who he may actually be. He keeps his profile extremely low.
Yet at the same time he draws a series of large, connected loops for his name, which looks so odd (or whimsical) that it draws immediate attention to himself. This contradiction must make for some funny moments in his personal and professional life.
His imagination is probably as relatively large as the loops, and much of his energy is expended in the realms of abstract thinking, perhaps even religion. The oversized loops warn that he might blow certain matters out of proportion.
His thinking is both objective and methodical; he must connect all the dots. He is capable of taking the initiative and he desires responsibility. The vertical slant of his writing signals a person who thinks before he acts.
~~~
INVASION OF PRIVACY ADVISORY:
Graphology Consulting Group regards as an invasion of privacy the unauthorized or covert use of handwriting analysis. We will not analyze a handwriting that we know was deviously or fraudulently obtained. We ask that all handwriting sent to us be of people who are aware and willing that their handwriting may be analyzed, or else are dead. We at GCG do not associate any name attached to a handwriting sample with that particular handwriting unless verifiable proof of authorship (for example, a video of the person writing the sample will suffice) is attached. Instead, all handwriting we analyze simply "purports" to be from the name attached, and we make no assumptions. Identifying handwriting by numbers, a pseudonym, or in code is preferred by us in order to minimize possible racial, national and gender bias. However, authentic handwritings from persons in the public eye are exempt from the invasion of privacy portions of this advisory.
~~~
To call us with handwriting news and ideas,
our office telephone is 212-799-9296 in New York City.
For pictures and video, our email is sheila@graphologyconsulting.com